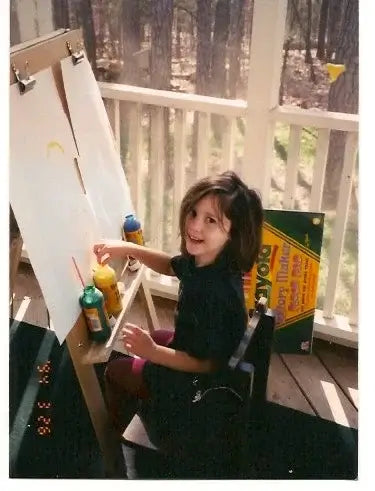 Hi friend!
My name is Lauren, and as you've probably guessed, I love to paint! I've been painting for as long as I can remember. In fact, here's a picture of me when I was a little Lauren, very excited to make a finger-painted master piece (and probably a mess too 😂).
Since those days out on the back porch of my parent's house, I have loved learning about everything and anything art! Nowadays, I usually paint with a brush instead of a finger, but still hold the same excitement and joy every time I create a new painting.
Before Art With Lauren, I was an educator at a children's science museum. I also worked for my local town in the Parks and Rec department setting up art exhibitions and events (think Leslie Knope, but in real life).
I hold a bachelors in Design from North Carolina State University.
Play is such an important aspect of learning. My method is to introduce the topic, provide demonstration and inspiration, and then let the learner learn by doing.
I try to encourage lots of experimenting and believe there are no mistakes when it comes to painting, just "happy accidents" that help us learn more.