Watercolor for young artists (ages 6-13)
Small group art classes that you can take from home, taught by a teacher who cares.
"My daughter looks forward to Art Club every week. As homeschool parents, we love that she can paint with other kids in a safe environment with a teacher who gets her."

Katie B.
Paint a new masterpiece every week
We paint landscapes, characters, animals and more, all while working on color theory, brush techniques, and having fun! We might even sing a little, too 😊
1. Try a Free Class

Classes are online – less time commuting, more time painting!

2. Join a weekly section

$15 per class. If you need a scholarship, reach out.

3. Watch your skills grow

(and give mom/dad an hour of freedom every week 😌)
Rave Reviews
✨ Join 124 young artists like you ✨
"My kids love this class! Lauren is super-fun and brings a wonderful energy to her classes. I can't recommend her highly enough. I have a 12-year-old and a 7-year-old. They both love it and are thoroughly engaged throughout each lesson."

Sophia T.

⭑⭑⭑⭑⭑
"Lauren is a great teacher and SO much fun!"

Nancy R.

⭑⭑⭑⭑⭑
"This class is great for kids at all levels that want to learn new, specialized skills in watercolor. Lauren is kind, patient, fun, and knowledgeable. We absolutely love art club!"

Sheena C.

⭑⭑⭑⭑⭑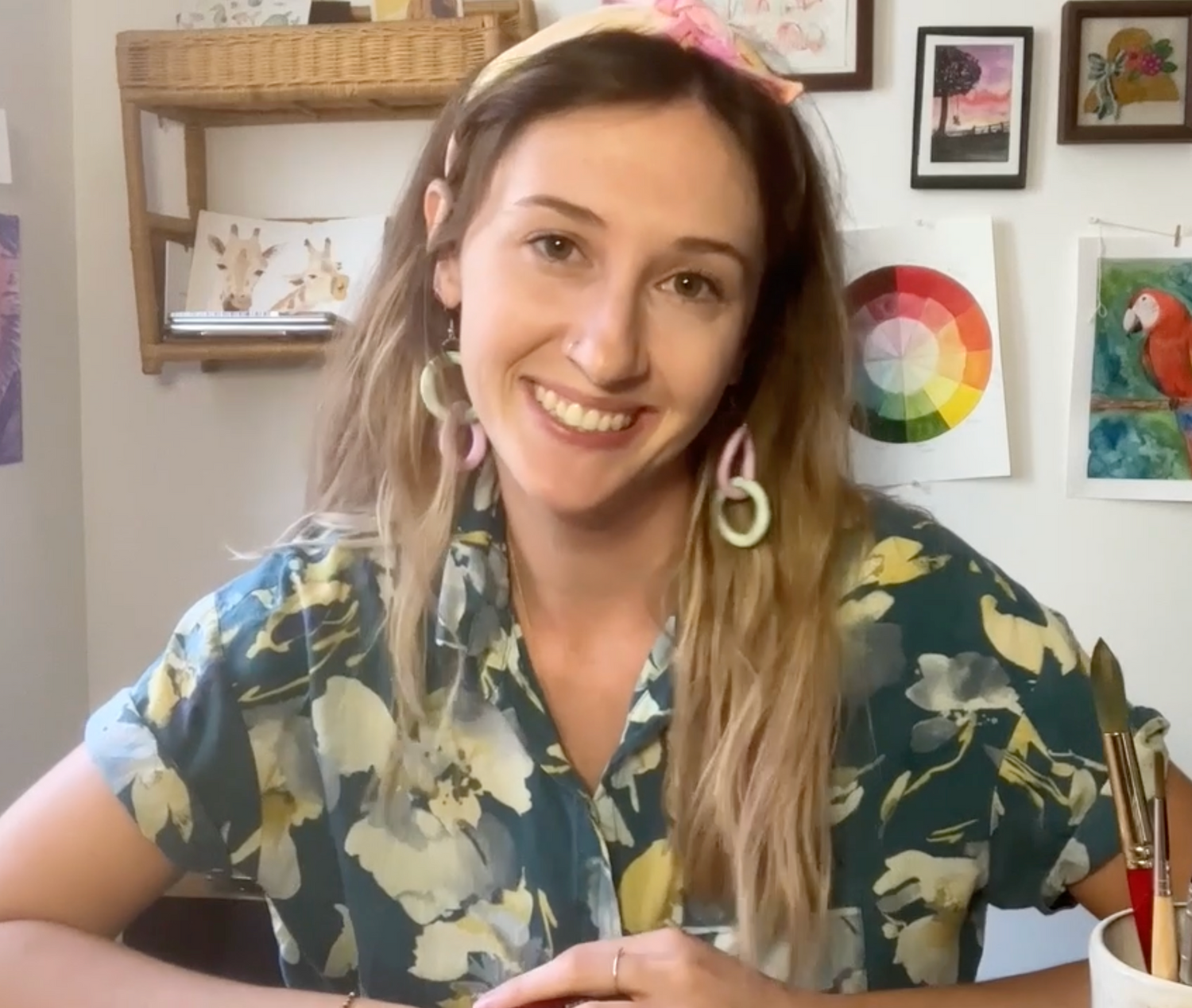 Your Teacher, Ms. Lauren
Hello there! I am a professional artist and teacher. I love helping young artists find joy in painting. As the great Bob Ross once said, "In art, there are no mistakes, just happy accidents." 🤗🌲
About Ms. Lauren
FAQ
How many students are in each class?

Small groups of up to 10 learners.
Is this class ok for beginners?

Yes - all skill levels welcome! Most students are beginner to intermediate. Some are completely new to watercolor (yay!). We even have some more advanced Monets in training.
What materials do we need?

Just the watercolor essentials - a brush, watercolor paper, watercolor paints, a pencil, masking tape, a paper towel, a cup of water and your bright smiling face!
Can I sit in on my learner's class?

Absolutely. Try to sit off camera and be a silent painter/observer. Bonus points if you paint along!
What if I have another question?

Send an email to "lauren(at)artwithlauren.com", and I'll get back to you asap 🤓
Water you waiting for? Grab that Monet and let's Gogh!